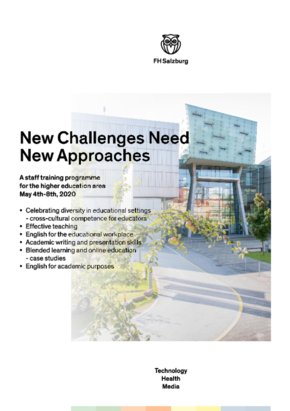 7th International Staff Training Week at FH Salzburg
May 3rd – 7th, 2021
The International Office is going to host the 7th International Staff Training Week. The programme particularly addresses:
Teaching Staff Members from partner institutions as well as
Teaching Staff Members from FH Salzburg.
The programme focuses on issues of effective teaching in English, diversity & inclusion as well as blended learning & online education.
Our guest lectures are going to be about:
Celebrating diversity in educational settings cross-cultural competence for educators
Effective teaching
English for the educational workplace
Academic writing and presentation skills
Blended learning and online education - case studies
English for academic purposes
Inform yourself about exchange opportunities and meet representatives from our partner institutions at our International Fair.
Further information on the Staff Training Week can be found here.