Do you have general questions about studying at a university of applied sciences or specifically about the FH Salzburg? Do you need guidance on choosing a course of study? Then simply listen to our presentation on studying at the FH Salzburg or ask the student advisory service team your questions all day.

In addition, there is an "Ask a Student" by representatives of the Österreichische HochschülerInnenschaft (ÖH) where real students answer your questions.
Get general information about studying at the FH Salzburg from our student advisory service team!
Ask a Student
Students of the ÖH will answer your questions about everyday life on campus, life as a student and much more. So if you want to talk to real students, just click on the chat.

Additionally, there are two presentations about the ÖH and its tasks.
FH Salzburg goes International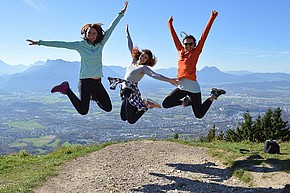 For many, internationalisation is an important aspect of their studies. Therefore, the International Office of the FH Salzburg will give you important information about semesters abroad, internships abroad and internationalisation at home in its two lectures. Click here for the presentations: