Peer2Peer Counseling - By students for students of the FH Salzburg
What does peer2peer counseling do?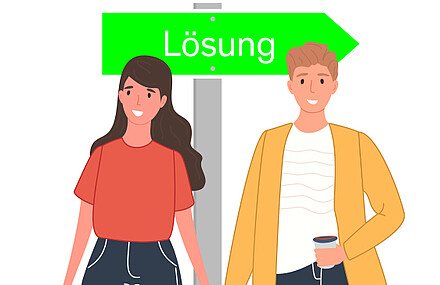 The peer2peer counseling team offers all students of the FH Salzburg a simple, voluntary, uncomplicated, anonymous and free individual counseling. The goal is to provide support at eye level in the event of difficulties or crises due to excessive demands, personal problems in private life or illness.
How can I make use of peer2peer counseling?
Students can make an appointment for counseling at peer2peer@fh-salzburg.ac.at r by calling the cell phone number +43 (0) 676 847795800.
The counseling can take place online or in presence at the FH Salzburg.
We, the peers, i.e. students of the Social Work and Social Innovation programs, can offer free and completely anonymous one-on-one conversations about personal concerns, being overwhelmed, or whatever. Whether it's on a walk, through MS teams, in a café, etc., you have the opportunity to just put everything on "stop" and talk about what's actually really bothering you in or outside of your day-to-day life. It can be so helpful to have someone from the outside looking at the situation professionally and revealing other approaches that you can't even see yourself anymore. Please do not forget that the consultants are just normal people, they all have personal issues ... But they also have tools to reach you through their own interest and training. In the end, there is no harm in accepting that.