Application Deadlines
Study year 2021/22:
Non-EU citizens: March 7, 2021
EU citizens: May 9, 2021
Applications for study start in September 2021 will be possible from November 2020 onwards.
Interview days are scheduled for:
Wednesday, March 24, 2021
Wednesday, April 28, 2021
Wednesday, May 26, 2021
NOTE: Due to our preselection process we close the online application two weeks prior the interview day. Individual videoconferences or on-site interviews will be arranged via email.

We strongly recommend non-EU citizens to decide for the 1st possible interview date = March 24th, 2021, as legalisation and organisation of visa requirements can amount up to several months (depending on your home country).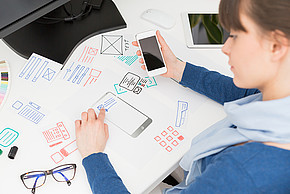 Info event
You want to study Human-Computer Interaction?
Then inform yourself about the study program at our Online-Info Saturday online via MS Teams.
Saturday, 28 November 2020
To participate in the Online Info-Saturday, no registration is necessary. Just click on the links above and take part in our presentations in MS Teams.