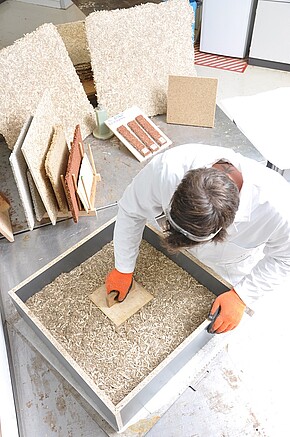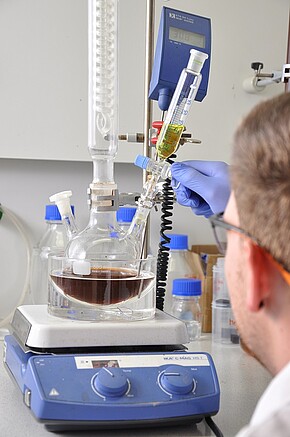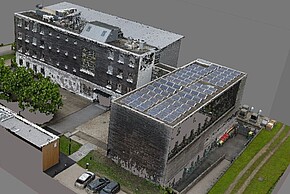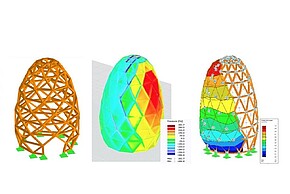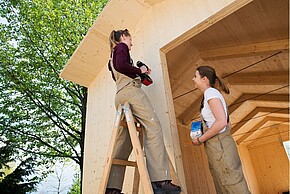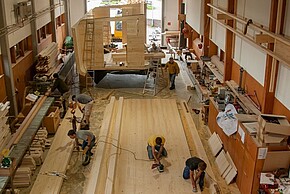 As diverse as the value chains of renewable raw materials are, as diverse are the skills it takes to use biogenic materials efficiently and intelligently. In addition to general skills in the field of forest products and management, from the second semester onwards you have the opportunity to choose an area of specialisation and sharpen your personal competence profile.
Regardless of which specialisation you choose, the master's programme teaches soft skills such as leadership, teamwork, interdisciplinary and scientific work, as well as business fundamentals, sustainable business management and management skills.
The following specialisations are available:
Wood Technology
Whether components for modern wood construction, panel materials for furniture and interior design, biopolymers for 3D printing or new fiber materials for the bio-based circular economy: the basis of all this is a comprehensive scientific and technical understanding of biogenic raw materials. The specialisation "Wood Technology" provides you with the skills to make our world more sustainable with the renewable materials of the future.
The curriculum is as diverse as the raw material: from process engineering knowledge, knowledge of manufacturing processes in the wood industry, rapid prototyping methods and generative manufacturing, process development and optimization, to biorefinery and the development of new ligno-cellulosic materials, a wide range of topics is covered.
On the one hand, contemporary areas of modern wood processing such as the sawmill industry, the production of wood-based materials, furniture construction and the building industry are addressed. On the other hand, topics of a steadily growing bioeconomy are discussed, which should not be underestimated as an innovative field of activity for graduates. Particularly in the connection with the circular economy and the closing of material cycles, for example through the higher-value use of organic residues, the master's programme offers a laboratory for sustainable processes and products.
An integral part of this specialization is the direct insight into real-life business practice, through company visits, workshops, excursions and lectures by experts from the wood industry. Interdisciplinary and international projects take place on a regular basis, which are further deepened in the academic discussion. You solve challenging tasks from the wood industry and its suppliers in a practice-oriented manner.
The comprehensive training will enable you to work across industries as a manager for sustainable and effective solutions in an internationally connected and increasingly digital wood industry.
Timber Construction
Wood is currently experiencing a renaissance as a sustainable building material: innovative wood-based building materials, computer-aided planning methods and a new architectural understanding are making this biological material the material of the future. This also increases the demands on timber engineers to plan, develop and implement buildings in a holistic way. In this specialisation you will acquire the methods and knowledge to become an expert in modern timber construction.
The construction industry is becoming increasingly complex, digital and international. The curriculum in the timber construction specialisation addresses these developments and, in addition to technical know-how, also provides an all-round view of the processes and requirements involved in building with wood. Subjects such as structural engineering, envelope design and building development build competencies in building physics, design and planning, while structural standards and certification systems create the normative framework for dimensioning a building in terms of technical, but also ecological parameters.
By dealing with intelligent data management systems and building simulations (Building Information Modeling), students are trained to think holistically in the design, construction and maintenance process of a building. They are enabled to independently coordinate and organize the management and execution of construction projects, from production to construction of the building. Of particular importance for timber construction are competencies in prefabrication, lean construction and logistics, as well as in sustainable building technology.
In addition, you have the opportunity, not least with the choice of semester projects, to set individual priorities, from conception, planning and manufacturing to project management. Practical relevance is always in the foreground and within workshops, company visits and excursions you have the opportunity to deepen your knowledge.
The master's programme qualifies you for the planning and execution of complex structures and buildings. You will be prepared for leading positions in the construction industry and in the timber construction sector and, as a graduate engineer, you will be able to help shape the change towards a more sustainable construction industry.