In every area of the three deepening possibilities, the students will not only learn a lot about the resource wood. They will also gain knowledge in the fields of business to have competences in management.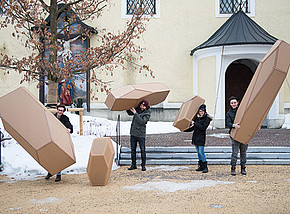 In times of internationalization, it is becoming more and more important to know foreign languages. Therefore the FH provides courses in a second foreign language next to English. Here the students can choose between Italian, Spanish, Russian, Swedish or French. The second foreign language courses start already at the first semester and will go on until the fifth. English on the other hand will take from the first semester until the end of the bachelor studies, for the simple reason that nowadays English is required everywhere.
In the following paragraphs the three deepening fields will be described.
Forest Products Technology
In the field of Forest Products Technology, the students will deal with products of the wood industry, how they are made, how they can be improved and further developments in that area. The students will also gain knowledge in testing the given material in terms of physical and mechanical properties. Also the material wood itself will be examined regarding wood anatomy, physics and chemistry. The production flow is an essential part of this area. Students will learn about practical applications of wood and the necessary technical parameters which come with the properties of the material wood.
Timber Constructions
The deepening in the area Timber Constructions contains basic knowledge in the fields of statics and the theory of load-bearing structure. The students gain knowledge about processes of production in the building industry. They also learn about construction bushing and construction handling. Students optain basic knowledge of restoration methods for already existing buildings. They acquire advanced knowledge in project processing and project controlling to coordinate and organize the production and erection of structures and buildings.
Furniture Design and Interior Architecture
The core competencies are in the fields of conception, design and planning of intelligent interior spaces. Therefore, the students fulfill the interface of Forest Products Technology and Timber Constructions. Furthermore, the students know about the processes of furniture development and furniture production.