Courses available in English for Exchange Students of the Degree Programme Information Technology and Systems Management
Here you can find an overview of courses that the Information Technology and Systems Management Programme offers in English for incoming exchange students in the fall/winter semester for Bachelor students (1st cycle). Our exchange semesters are only offered in the fall/winter.
For further information on academic issues and provisional learning agreements, please contact the international coordinator of the Information Technology and Systems Management Programme, Thomas Schmuck (thomas.schmuck@fh-salzburg.ac.at).
For administrative issues please contact the Incoming Students Coordinator at the International Office (international@fh-salzburg.ac.at).
Information Technology and Systems Management Bachelor (5th Semester) | Academic year: 3
Course code: ITSB5BA1SE
Course Content: Bachelor thesis 1 encompasses a field and topic oriented appraisal of knowledge attained during the course. The subject areas of media informatics, mechatronics, intelligent energy systems, network and communications technology in particular are the subject matter of the study. This work will be implemented in accordance with the basic principles of scientific work.
Information Technology and Systems Management Bachelor (5th Semester) | Academic year: 3
Course code: ITSB5SWDLB + ITSB5SWDVO
Course Content: Software life cycle; UML as a standard notation for software; Software specification; Lightweight, heavy-weight and agile process models; Requirements engi-neering; Software metrics; Software testing; Software quality; Software design patterns; Configuration man-agement; CASE tools; Fundamentals of model-driven software development.
Prerequisites: Object Oriented Programming, Network Oriented Programming, Database Systems
Business Informatics and Digital Transformation Bachelor (5th Semester) |Academic year: 3
Course Content: Python language primer, classes, exceptions, basic I/O and most important standard modules, Python IDEs and computing frameworks (partly cloud based), special toolboxes (pandas, matplotlib, numpy, scipy, scikit-learn) and scripting thereof, implementing classical exploratory data analysis plots, tSNE or geo-plots, plots of signals and images, export of data and graphics.
Prerequisites: Students are familiar with object oriented programming (e.g. C++, Java, …) and know about basic algorithms and data structures.
Information Technology and Systems Management Master (3rd Semester) |Academic year: 2
Course code: ITSM3ENHIL
Course Content: Introduction to issues related to business ethics and sustainability, in particular with the theoretical relationship between business, economics and ethics. The importance of ethical behaviour for the daily business and its impact for the environment (e.g. stakeholder) is another priority. Practical case studies are connected with relationships in strategic management. In the discussion of new trends and the resulting challenges for the entrepreneur (for example in the context of "Corporate Social Responsibility") special considerations are given.
Applied Image and Signal Processing Master (3rd Semester) | Academic year: 2
Course code: AISM3PMTIL
Course Content: Planning of product innovation: project definition, task structure, quality assurance, work packages, organisation, roles, phases, milestones/results, flow chart, multi-project control; implementation and controlling: conflict line/project, progress monitoring, prognosis, risk analysis, reporting system, qualitative and quantitative evaluation, documentation, software models and tools; social skills: teamwork, challenge, expectation, self-organisation, moderation, feedback, management styles, roles within a team, coaching of projects.
Business Informatics and Digital Transformation Bachelor (5th Semester) |Academic year: 3 |
Course code: WINB5MSEIL
Course Content: IT portfolio as strategic controlling instrument; products and services calculation "service level agreements", service level management, strategic IT controlling; IT billing; resource planning and capacity management; TCO analysis; procurement management; IT departments and organisation structures; IT in/out-sourcing; knowledge management, ERP systems (SAP), IT governance (Sarbanes-Oxley Act, BASELII, legal provisions), ITIL (optional: ITIL foundation certification), T-finance management, ISO17799 and ISO20000, change management, problem management (help desk), security management, life-cycle management, disaster-recovery measures; backup/restore plans; emergency planning. Basic principles, information-risk management, information and data classification, national and international information security standards and frameworks (e.g. ISO27000, IT basic protection), cyber security strategies, security life-cycle, security policies/standards/guidelines/procedures, access control models, cloud security, industrial control systems (ICS), ethical hacking and penetration testing, IT and malware forensics, incident handling and computer emergency response team (CERT), special legal bases and legal characteristics from the telecommunications laws and data protection laws, patent law.
Business Informatics and Digital Transformation Bachelor (5th Semester)
Course code: WINB5ADAIL
Course Content: The students deal with the interface between IT and management and develop prototype applications of the techniques from the field of data mining (the conversion of data into information) for decision and prognosis processes. Opportunities, technologies and framework conditions for data mining are developed as examples, by means of prognoses for the customer behaviour. The students are therefore able to develop concepts for a centralised data management and to design a clearly regulated acquisition, maintenance and utilisation management and to implement this with modern tools.
International Departmental Coordinator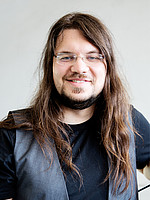 DI
International Departmental Coordinator, Applied Image and Signal Processing
International Departmental Coordinator, Information Technology & Systems Management