Professional internships and study abroad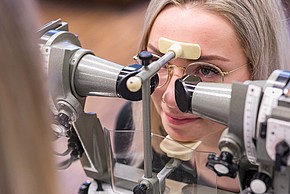 In order to kick-start your career after you have completed your studies, you will gain a lot of practical experience during a professional internship. In total, you will complete 1188 hours of orthoptics training. These take place, among others, at Salzburg University Hospital (SALK) as well as through other external internships throughout Austria.
Gain experience abroad: From the fourth semester, you have the opportunity to complete an internship abroad. However, keep in mind that this course does not allow a whole semester abroad.