For engineers who want to achieve more
As graduates of the Master's programme, you are specialised IT experts with a high level of management competence. You will be sustainably successful on the heterogeneous, dynamic labour market. We provide you with the optimal tools for your future tasks as a qualified specialist and manager in IT management in industry and business.
The engineering orientation of the degree programme guarantees a practice-oriented and theory-based university education based on future-oriented technologies and research. You will acquire scientifically sound, specialised IT technical and methodological skills with individual professionalisation options.
In addition, you will acquire know-how in the area of management and business. Interdisciplinary cooperation and leadership skills, professional target group and solution-oriented communication as well as in-depth knowledge in innovation management round off your IT master's degree.
Programme Structure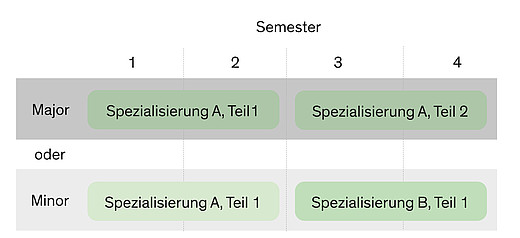 Individual specialisation
Design your degree programme according to your individual wishes by choosing from the following specialisations. Choose whether you want to dedicate yourself to one core topic over the entire study programme (major) or specialise in two areas over two semesters each (minor). Furthermore, in the third semester you have the opportunity to take additional electives in the areas of business and/or information technology according to your interests.
Three majors
Data Science & Analytics
Networking, Privacy & Security**
Cyber Security*
Smart Systems & Robotics
* Subject to approval
** The Networking, Privacy and Security specialization will be offered through winter semester 2023/2024 and then replaced by the Cyber Security* specialization.
As a Master's student, you are actively involved in the research of the degree programme and seek solutions to scientific questions. Your research project is linked to one of the three knowledge lines of the Master's programme. You cooperate successfully with our national and international partners.