Augmented Reality Experiences in Museums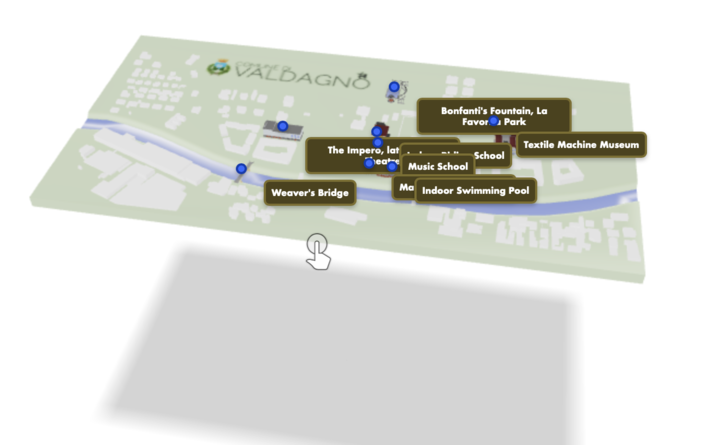 In the Alpine area there are many small thematic museums that tell a story about the history, culture and ancient crafts of the respective area. These are often places that are located away from the main tourist routes and attract fewer visitors due to their specificity and the difficulty of reaching them because of their geographical location. Thus, pilot sites were included in the project, which are characterized by small museums and significant cultural and landscape aspects: The Textile Machinery Museum in the municipality of Valdagno (Italy, Veneto Region), the Ecomuseum Val Resia – a museum in the municipality of Resia (Italy, Friuli-Venezia Giulia Region) and the Museum Schloss Ritzen in the municipality of Saalfelden (Austria). Additionally, a fourth museum joined the project during the process: The Typewriter Museum Peter Mitterhofer in the municipality of Parcines (Italy, Autonomous Province of Bolzano - South Tyrol).
The project was born out of the need to preserve the historical and cultural heritage of local communities, to offer new experiences to visitors, and to enhance accessibility – for people who might not be able to travel or have difficulties to enjoy museums in its current state (e.g. due to certain disabilities).
While individual project partners are working on various implementations to achieve the mentioned goals – such as digital 360° tours of the museums, implementation of accessibility measures or silent play/audio tours on site – the Salzburg University of Applied Sciences was asked to create augmented reality content, hold workshops/webinars on design topics, and to support partners in their activities. In detail, the augmented reality experiences can be used to make on-site museum experiences more interactive, to make the pilot regions digitally accessible, or to create points of contact with people who are unable to travel or cannot experience the museums due to various forms of disabilities.
Together with Mixed Reality I/O (https://www.mixed-reality.io/), 8 different augmented reality experiences were created. These experiences can be accessed through QR codes and have been integrated into the project website (http://smart-museums.eu), along with other elements such as 360° videos or silent play audio guides. This combination of content creates a platform with a variety of experiences and a focus on "design for all".

SMART ITAT2049 is a project funded by the European Regional Development Fund and INTERREG Italy-Austria V-A 2014-2020 with a duration of 30 months (September 2019 - March 2022).