Buddy Student Programme
Be a buddy - be a friend!
Are you interested in meeting new people? Do you want to get to know another culture? Then participate in our Buddy Student Programme. As Buddy Student you benefit from getting to know international exchange students from all over the world.
Buddy Students support exchange students regarding practical aspects during their stay at FH Salzburg. Especially at the beginning of their exchange semester the Incoming Students need information about public transportation, Austrian mobile phone providers, student discounts and so on. In addition, Buddy Students are familiar with the Austrian culture and can give this information to the exchange students in a practical manner by means of trips to Austrian traditional festivities like the Maypole event.
The Buddy Student Programme provides a great opportunity to improve one's social skills and language competencies. Buddy and Incoming Students with different cultural backgrounds can exchange views and explore cultural differences and similarities. In so doing they strengthen their intercultural awareness and competence.
Moreover, the Buddy Student Programme is a requirement for those students who are interested in doing an exchange semester themselves. They get in contact with our Incoming Students and have the possibility to receive first-hand information on our partner institutions. When you are already considering a stay abroad, taking part in the Buddy Student Programme will be the perfect preparation for this intention.
Please do not hesitate to contact us for more information, either by email (international@fh-salzburg.ac.at) or drop by at the International Office (Campus Urstein, room 219).
Tandem Learning Programm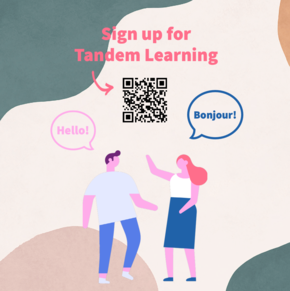 Did you know that you can learn Thai, French or Hungarian at Salzburg UAS? As well as Spanish and Chinese. Tandem Learning makes it possible.
What exactly is Tandem Learning?
Tandem Learning is informal, self-organised learning. You have the opportunity to practice the language with a native speaker and to learn a lot about the country and the people. At the same time, you are supporting an exchange student learning the German language.
What are the benefits?
Fun, new friendships, and improved language skills are only three of the many benefits of the Tandem Learning Programme. In addition, you will receive 2 ECTS for the participation in the informal language course which is called "Informal Language Learning".

This is the best chance to prepare yourself for a stay abroad and to get to know our current incomings. In mutual exchange, language skills can be improved & cultural differences and similarities discovered. In addition, you will have the opportunity to learn more about our partner institutions.

Get to know your tandem partner personally at the Tandem Learning Café which takes place at the beginning of every semester. The exact data and further information can be found on myFHS (Login).