The FHStartup Center is the first point of contact for alumni, students and others interested in starting their own startup.
FH Startup: Mission & Goals
The goals of the FHStartup Center: Salzburg is becoming Austria's most important startup region – and Salzburg University of Applied Sciences is becoming the most entrepreneur-friendly university in the region.
The FHStartup Center functions as:
an ambassador of entrepreneurial spirit
We aim to awaken entrepreneurial spirit by supporting business ideas through ideation and scouting. We also help the idea generator to investigate possible applications for their idea.

a sparring partner for new starters
We aim to support people interested in starting their own startup. Our "Entrepreneurship ABC" workshops offer expert knowledge on anything from business models to property rights.

a bridge-builder and networking partner
We aim to connect startups to experts at SUAS. We support startups through networking activities, individual mentoring and an office and IT infrastructure tailored to the maturity of the proposal.
In addition to the FH Salzburg, the 'Startup Salzburg' initiative initiative is supported by the government of Salzburg and is run the Salzburg Chamber of Commerce, ITG Salzburg, Salzburg University and other network partners.
Just like every start-up, we will continue to expand our range of services. Ideas are always welcome! "Let's start up".
Contact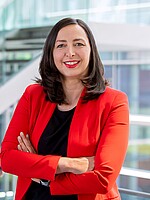 Mag. (FH)
Natasa Deutinger
Senior Startup Manager, FHStartup Center
Newsletter and Idea-Check-Session