Accommodation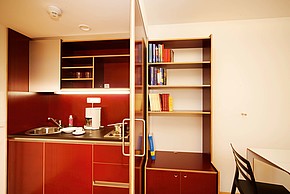 OeAD Housing
Finding the right kind of accommodation is important – it will be your home for the next semester(s). Basically, you can choose between on-campus and off-campus accommodation. At both campuses of Salzburg University of Applied Sciences on-site student dorms are available, all of which include bathroom and kitchen. Most of our incoming students decide to live on Campus Urstein simply because it is the closest to university.
If you wish to live off-campus, you can apply for accommodation in the city of Salzburg. Closest to Campus Urstein are the student residences in the south of Salzburg, for example the Europa Kolleg, Franz-von-Sales Kolleg or Internationales Kolleg. If you are interested in renting a room on Campus Urstein or in the city of Salzburg, please visit the OeAD housing website and send your application online as indicated on https://www.oeadstudenthousing.at/en/accommodation/salzburg/.
For more information in this regard have a look at our Incoming Students Guide.
kurzzeitmiete.at & Guesthouse – Salzburger Studentenwerk
For these options, please have a look here: Staff Mobility/Accommodation
Insurance
When travelling to Austria, it is important to make sure to have a valid health insurance.
The European Health Insurance Card is available for everyone from EU- or EEA-countries. There are also some countries that have specific insurance agreements with Austria and students coming from these countries should bring an A3-form from their national insurance institution. At the moment these countries are as follows: Bosnia and Herzegovina, Macedonia, Montenegro, Serbia and Turkey. Students who are not from any of these countries are highly recommended to take out health insurance in their home countries, or to take out the self-insurance for students from the Salzburger Gebietskrankenkasse upon arrival. There is also the possibility of taking out an insurance provided by the insurance company FeelSafe. Furthermore, every incoming student is obliged to pay the Austrian Student Union membership fee of around € 20 which includes a basic liability and accident insurance.
For further information concerning insurance in Austria, the European Health Insurance Card and self-insurance have a look at the links below*:
* Salzburg University of Applied Sciences will not accept any liability that the content presented by external providers is up-to-date, accurate and complete.