Every beginning is hard? Not with the Career Center of the FH Salzburg! The Career Center supports students and alumni in their entry into the professional world. This makes career planning much easier. Whether you are looking for a company or applying for a job: The Career Center provides students with expert knowledge to help them start their careers.
The Career Center offers students and alumni a range of services on the topics of job entry, application and career. The aim is to support students in their career planning and entry into the professional world. See our online job and career platform where job offers, information on companies and all career events can be found.
Jobs and Careers Platform
Looking for an internship, part-time job or a job after finishing your studies? The jobs and careers platform powered by JobTeaser supports you when you're looking for a job and just getting started in your career. A wide range of national and international job offers will be available to you once you register.
Three steps to the jobs and careers platform:
Step 2: Create profile and modify search criteria
Step 3: Search for job offers and career events
"Initiative Karrieregestaltung"
Through a cooperation with the Paris Lodron University Salzburg (PLUS) and the University Mozarteum Salzburg (MOZ), the Salzburg University of Applied Sciences (SUAS) offers an interesting supplement to studies. Professional life places a wide range of demands on academics, which go far beyond their professional qualifications. In the course of personal training, the acquisition of so-called soft skills therefore plays a major role. The aim of the Career Development Initiative is to promote the professional skills of students and graduates and to acquire and develop key qualifications.
The individual courses from the study supplement "Initiative Career Design" can be credited as free subjects for students. Graduates will be issued with a certificate of attendance.
Information for students of the FH Salzburg on myFHS (LOGIN).
Contact Career Center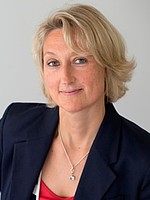 Mag.
Ingrid Langthaler
Coordinator Career Center & Corporate Partnership, Corporate Communications & Marketing