Jobs and Careers Platform
Looking for an internship, part-time job or a job after finishing your studies? The jobs and careers platform powered by JobTeaser supports you when you're looking for a job and just getting started in your career. A wide range of national and international job offers will be available to you once you register.
All the benefits at a glance:
Easy to find job offers using a wide range of filter criteria (occupational field, location, con-tract type etc.)
Application directly via JobPortal
Find out more about a company via its profile
All career events at a glance, register directly on the platform
Upload your CV and receive job offers directly from partner companies
Check new offers on the go with the JobTeaser app
Three steps to the jobs and careers platform:
Step 2: Create profile and modify search criteria
Step 3: Search for job offers and career events
Translate to English: Initiative Karrieregestaltung - Studienergänzung
Translate to English:
Durch eine Kooperation mit der Paris Lodron Universität Salzburg (PLUS) und der Universität Mozarteum Salzburg (MOZ) bietet die Fachhochschule Salzburg (FHS) eine interessante Ergänzung zum Studium an. Das Berufsleben stellt vielfältige Anforderungen an Akademikerinnen und Akademiker, die weit über die fachlichen Qualifikationen hinausgehen. Im Laufe der persönlichen Ausbildung spielt daher der Erwerb sogenannter Soft Skills eine große Rolle. Ziel der Initiative Karrieregestaltung ist die Förderung der Berufsfähigkeit der Studierenden und AbsolventInnen, sowie der Erwerb und Ausbau von Schlüsselqualifikationen.
Die einzelnen Lehrveranstaltungen aus dem Angebot Studienergänzung Initiative Karrieregestaltung sind für Studierende als Freifach anrechenbar. AbsolventInnen wird eine Teilnahmebestätigung ausgestellt.
Contact Career Center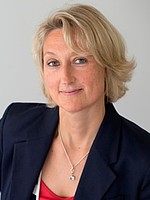 Mag.
Ingrid Langthaler
Coordinator Career Center & Corporate Partnership, Corporate Communications & Marketing