The first step is always the hardest? But not with the help of the Career Center! It supports students and alumni in making their first steps into the world of work. This way, career planning becomes a lot easier and less complicated. Whether searching for a company or applying for a job - the Career Center supports students in starting their careers with its expert knowhow.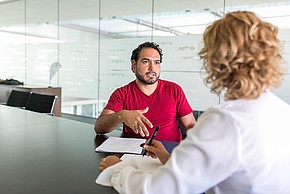 The Career Center provides students and alumni an extensive range of services on the topics of starting a job, applying for a job and career. The main focus is an online job and career platform where job offers, further information on companies and all career events can be found.
All advantages at a glance:
Job offers can be found easily by using various filter criteria (field of interest, location, type of contract, etc.)
Get to know companies through their profiles
All career events at a glance, registration is possible directly via the platform
Many tips on how to apply for jobs
Have somebody take a look at your application documents
Job and career platform
Whether it's an internship or a permanent position, national or international: The job and career platform helps you to find the right job. As soon as you are registered, a wide range of national and international job offers will be available.
It's that simple: Three steps towards registration:
Step 2: Create profile and modify search criteria
Step 3: Search for job offers and career events
Career workshops & coaching
Initiative for career development
In cooperation with Paris Lodron University Salzburg and Mozarteum University Salzburg, the University of Applied Sciences offers free courses for the acquisition of key qualifications and soft skills.
The courses are offered as part of the "Studienergänzung Initiative Karrieregestaltung" (Initiative for career development) can be credited to students as free subject. Students who have completed the courses will receive a certificate of attendance.
Information for students of the FH Salzburg on myFHS (INTERN).
Contact the Career Center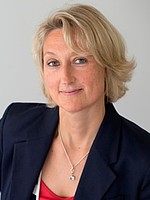 Mag.
Ingrid Langthaler
Coordinator Career Center & Corporate Partnership, Corporate Communications & Marketing