The Josef Ressel Centre for Intelligent and Secure Industrial Automation investigates the fundamentals of digital assistants for industrial machines that enable intelligent and secure operation. This assistant should be able to relieve and support human operators by providing assistance in monitoring and controlling machines. The three research fields OT Architecture, OT Intelligence and OT Security provide the foundation for the digital assistant.
Industry 4.0 is accompanied by a vision: Flexible, adaptive and intelligently orchestrated value chains. These allow the production of personalised and individualised goods, shorter time-to-market times for new products and in the future the complete automation, autonomisation and optimisation of entire value chains. This development first requires adaptable, digitalised, interconnected and ultimately autonomous machines. The way there is to be prepared by digital assistants for industrial machines which raise the degree of autonomy of these machines through methods of artificial intelligence. This JR Centre aims to research and build the necessary foundations in the field of system architectures, artificial intelligence and cyber security in the context of industrial systems. The inherent interdisciplinarity is a prerequisite, challenge and opportunity at the same time.
Digital assistance for human operation
Autonomous machines require data communication beyond the boundaries of the factory's operational environment. Cyber security is a significant aspect of this. Security necessarily goes hand in hand with a continuous reduction of human control and permeability of data communication. Artificial intelligence creates methodological synergies between cyber security and assistance for machine operation especially with regard to anomaly detection.
"The methods and mechanisms required for intelligent and secure industrial automation call for an adequate system architecture that provides the necessary environment, mechanisms and flexibility," the aim of the new research centre explained by Stefan Huber as head of centre.
It is primarily about artificial intelligence in the classical sense: a digital assistant must be able to receive perceptions from an environment and influence the environment by recommending actions to human operators, presenting information or controlling machines autonomously.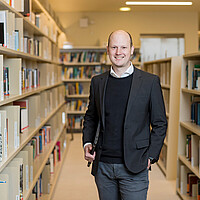 Stefan Huber
Head of Centre
The digital assistant should be able to relieve and support human operators by providing assistance in monitoring and controlling machines. This specifically concerns people who operate injection moulding machines, milling machines, lathes, labelling machines or filling machines, for example.
Duration: July 2022 – June 2027
Funding bodies: Federal Ministry for Labour and Economy, Christian Doppler Research Association, Land Salzburg
Cooperation partner: Ing. Punzenberger Copa-Data GmbH, B&R Industrial Automation GmbH, TMK Beteiligungs GmbH (SIGMATEK)
We would like to thank the Federal Ministry for Labour and Economy, the Christian Doppler Research Association and our corporate partners as well as Land Salzburg.