Research & Development (R&D) joins teaching as an important pillar of activity for Salzburg University of Applied Sciences and is characterised by real-world applicability and close links to business, industry and society.
Research, Development and Transfer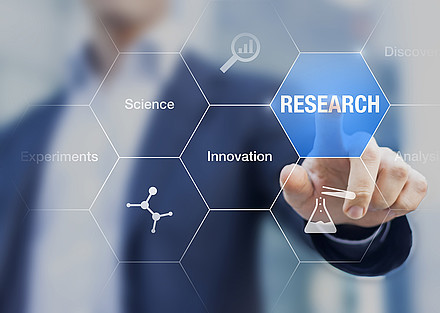 Salzburg University of Applied Sciences has a research revenue totalling approximately 3,5 million euros per year. Approximately 25% of all third-party funding comes from companies, whilst the remaining three quaters comes from a variety of different public funding agencies.
The research skills of our researchers are showcased in approximately 100 R&D projects per year and a number of research publications. The university also utilises cutting-edge technology and high-end laboratory equipment to create a modern, efficient research infrastructure.
All of these factors make Salzburg University of Applied Sciences an innovative research and co-operation partner for regional, national and – increasingly – international companies.
Research Focus Areas
Salzburg University of Applied Sciences focuses its research on a number of different areas. This enables the university to concentrate on its strengths and compete effectively at a national and international level. Like its degree programmes, Salzburg University of Applied Sciences' diverse research is clustered in four disciplines:
Engineering that conducts research in the following fields: Forest Products Technology & Biogenic Technology, Information Technology & Systems Management and Smart Building & Smart City.
Business and Social Sciences that conducts research in the following areas: Business Management, Tourism Research and 'Social Work, Social Innovation and Society'
Design, Media and Arts with DEIREISA Design Research Salzburg and research into MultiMediaArt and MultiMediaTechnology
Health Studies with R&D activities linked to the university's degree programmes in Health Studies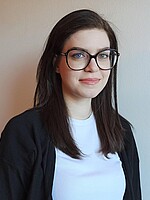 Sophie Stangassinger
Assistant, Coordination Research & Development