The 4th International Data Science Conference (iDSC 2021) brings together researchers, scientists, and business experts to discuss means of establishing new ways of embracing agile approaches within the various domains of Data Science & Artificial Intelligence, Internet of Things (IoT), Industry & Production 4.0, including the dependability of systems, data mining, or visualization and communication as well as case studies and best-practices from leading research institutions and business companies.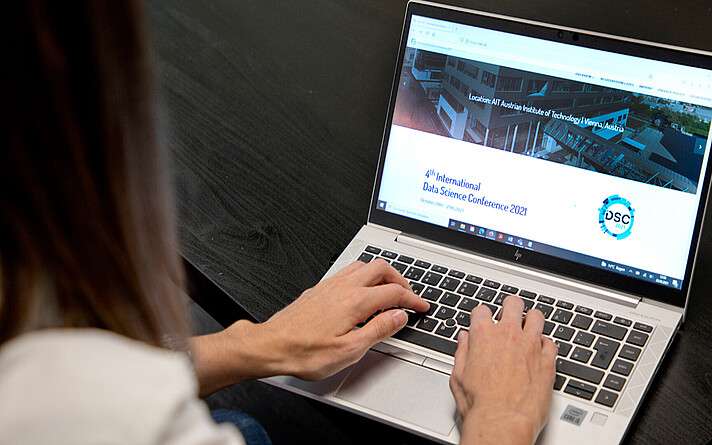 The 4th annual data science conference, iDSC21, is being held this year on 20 and 21 October, and will be hosted by the AIT Austrian Institute of Technology in a virtual format. The event will focus on the latest developments and technological trends made possible by data science. They cover fields including Artificial Intelligence (AI), the Internet of Things (IoT), as well as Industry and Production 4.0, while also enabling advances in data mining, data analysis, and data communication. This year's programme will once again include fascinating industry tracks in which businesses share insights into new and promising industrial applications. Tickets at the early bird price are available until 27 September at https://idsc.ait.ac.at/. The conference language is English.
International keynotes on a broad spectrum of developments and applications in data science
This year's iDSC 2021 features 5 high-calibre keynote speakers who will offer a broad overview of current data science research together with examples of the practical implementation of research findings. The primary focus will lie on the manageability of highly-complex technological system landscapes, as well as the cyber-physical security of our increasingly convergent and interacting digital networks, plus the targeted efforts to make this industrial backbone more environmentally sustainable.
Allan Hanbury is Professor for Data Intelligence, Head of the E-Commerce Research Unit and Vice Dean of Academic Affairs for Business Informatics in the Faculty of Informatics at TU Wien, and a member of the Complexity Science Hub Vienna. His keynote, titled "Open Science with Closed Data", will show how researchers are given access to sensitive health and mobile communications data – most of which is inaccessible for good reasons such as privacy concerns or commercial secrecy – and the research potential this data offers.
Cornelia Schaurecker is the Vodafone Group Global Director for Big Data & AI, and an internationally respected expert in automotive IT – the result of many years spent in leading roles with all major German automotive manufacturers including BMW, Audi and the VW Group. Her keynote, "Value Generation through Artificial Intelligence and Big Data", takes this opportunity to report on practical examples and selected use cases from agile, international high performance teams in the telecoms sector and automotive industry.
Günther Tschabuschnig, CIO at the ZAMG – Austrian Central Institute for Meteorology and Geodynamics and President of the DIO (Data Intelligence Offensive), and his colleague Natascha Totzler, both acknowledged computer science experts specializing in Agile Data Management, will give a joint keynote titled "How to Manage Data Governance in an Agile Way". They will explore how data governance, with all its associated standards, principles and rules on data quality, integrity and security, can be managed using agile methods.
Mario Drobics, Head of the Competence Unit for Cooperative Digital Technologies at AIT, and Associate Professor at the Institute for Medical Statistics and Informatics at the Medical University of Vienna, will give a talk titled "Enabling the Circular Economy using Smart Data" which will explore the transformation from the linear to the circular economy. He will touch on subjects including how IoT, data spaces, and AI can be combined to help achieve the vision of energy-efficient materials usage and extended product lifecycles, and the associated challenges.
Mario Meir-Huber, Head of Data at the Uniqa Insurance Group and data strategy blogger on www.cloudvane.net, will use his keynote, titled "The Data Mesh", to explore the development of data management via the revolutionary stages of relational databases, data lakes, and finally the data mesh. He will then present and explain how the data mesh as a disruptive data usage concept can be used to create business value.
Information about the programme and tickets (early bird tickets until 27 September 2021) are available at https://idsc.at/.
About the iDSC
The International Data Science Conference (iDSC) was initiated in 2016 by the Salzburg University of Applied Sciences (Information Technology and Systems Management). It is an annual event, organized in cooperation with the FH Vorarlberg, the Danube University Krems, and the AIT Austrian Institute of Technology, and aimed at a national and international audience of professionals from science, research and business working in data science and data analytics.
The iDSC is designed as a conference with a dual approach: By bringing together the latest findings in data science research and innovative implementation examples in business and industry, the conference is designed to reflect the current scientific breakthroughs and application expertise, as a means of stimulating shared professional discourse. This year, once again, the chosen structure of research and industry tracks will provide fascinating insights into current areas of research, as well as presenting use cases to demonstrate the huge significance of data science in light of global digitalisation.

The iDSC provides Austria with the opportunity to present itself as an attractive research and business location. The conference brings together science and industry, and encourages the transfer of expertise in the fields of data science and data analytics.
The iDSC 2021 is supported by companies from research and industry, including SBA Research, Sparx Systems Central Europe, and X-Net Services.