Josue Steele, a graduate of the Innovation & Management in Tourism master's program, was awarded the Pride Biz Austria 2022 Best Paper Award for his thesis. Pride Biz Austria, the association for promoting the inclusion of sexual diversity in business and the workplace, awards academic papers on LGBTIQ+ every two years.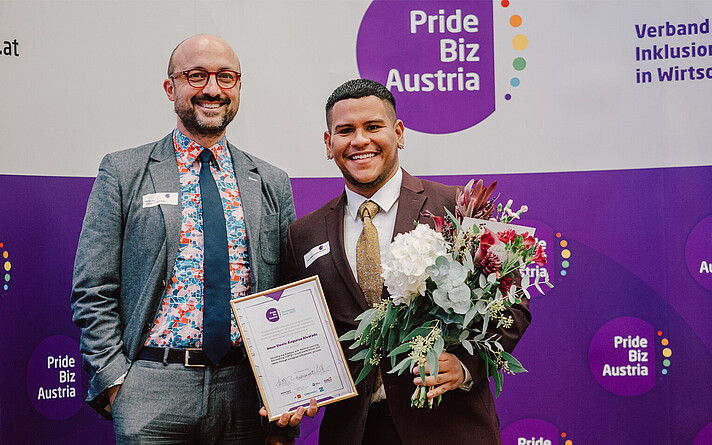 Bob Paris once said "Every gay and lesbian person who has been lucky enough to survive the turmoil of growing up is a survivor. Survivors have an obligation to those who will face the same challenge" (n.d.).
Josh mentioned:
"Since I survived growing up in a conservative latinamerican society as a gay man, I felt the obligation to fill this research gap and support my community".
Using machine learning, Josua Steele addressed the way to build marketing efforts targeted for LGBTQ+ travellers and improve their travel intention since motivations, needs, patterns, and expectations of the LGBTQ+ travellers are under researched. The title of his Master thesis: "Decoding the Rainbow with Machine Learning: Discovering LGBTQ+ travel preferences and needs through Instagram Influencers' pictures".
About Pride Biz Austria
Pride Biz Austria is committed to lesbian, gay, bisexual, transgender and intersex people in business and the workplace and acts as Austria's first point of contact for companies and politicians. By awarding the prize, the association aims to stimulate research in Austria on the topic of LGBTI and to strengthen social acceptance. Initiated in 2004 by AGPRO (Austrian Gay Professionals) as the "agpro Promotion Award", scientific work on LGBTI topics was initially awarded annually, later every two years. This year's call for entries was organized for the first time by the umbrella organization of AGPRO & QBW (Queer Business Women), which was founded in 2019.
Further details are available on this link: https://pridebiz.at/forschungspreis2022/