"I've always been a tourism kid," Lisa Loferer laughs when talking about her remarkable career path after graduating from Salzburg University of Applied Sciences. She picked up her love of tourism early on through her father's hotel in Zell am See. Her personal tourism career path led her via the Bad Hofgastein Tourism School to the Salzburg University of Applied Sciences and finally into destination management, as Managing Director of TVB Bad Gastein.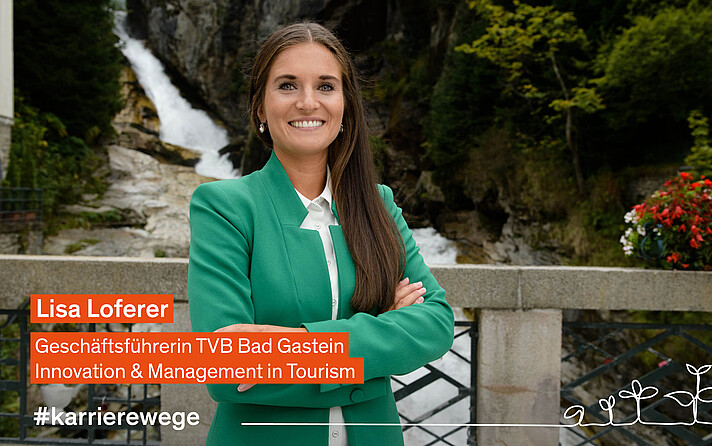 "For me, it was clear from the start that working with people in tourism would excite me," says Lisa Loferer. She wanted to study after graduating from high school, and she wanted it to be international, so there were only two English-language programs in universities of applied sciences in Austria that came into question. She was accepted at both universities. "But I then deliberately chose Salzburg University of Applied Sciences, not only because of the mountains, or because Salzburg is also a very internationally well-known tourism region. I was also convinced by the curriculum: the studies were very condensed and catered to the needs of the tourism professionals who were studying. For example, it was possible to go on season during the studies and continue to gain experience here in professional life," she highlights the flexibility.
International & enriching
"Personally, I was very enriched by the exchange with my international fellow students and teachers. We benefited enormously from the insight into other cultures, countries and tourism regions and to this day I am in close contact with many colleagues. Studying was a wonderful and enriching time!"
During her studies, Lisa Loferer also took the opportunity to get a taste of foreign air herself and spent a semester in Utah, in the USA.
Not only on a personal level, but also professionally, her studies prepared Lisa Loferer well for her career. After graduating, she started in a tourism startup in Schladming, but quickly realized that she wanted to go back to being a guest. In 2015, at the age of 24, she was elected managing director of the tourism association of the municipality of Uttendorf/Weißsee. The smaller tourism association was the perfect entry into destination management, as she was responsible for all areas.
Then in 2018 came the offer to take over the management of the Bad Gastein Tourism Association. "This was of course a big challenge, due to the budget volume coupled with the responsibility for over 30 employees*," she recounts of the early days. "But it is and remains a wonderful task!"
The fact that the industry never stands still and that every tourism professional has to stay on the ball all the time was also passed on to the students during their studies. To this day, she uses the courses offered by the Salzburg University of Applied Sciences to learn about current trends such as digitalization and e-tourism.
Is there a personal highlight?
"Yes, indeed there is," the tourism manager tells us with a smile. "A human resource management lecturer from India gave us a piece of wisdom for each unit throughout the semester. One of them was 'You are 100% responsible for your own actions.' This has had an incredible impact on my life and is still a guiding principle in my daily work. Not to look for the faults in others, but to reflect on what you personally could have done differently to avoid the mistake."
In addition to her very fulfilling professional activities, Lisa Loferer is also involved in the Association of Austrian Tourism Managers. As a member of the executive committee, she continuously organizes training courses, especially in the field of destination management.
Finally, the idea of networking is particularly important to her: "The network that has been built up since my studies and continues to grow through the Salzburg University od Applied Sciences is also very important," says the successful graduate.