Anja Sommeregger studied MultiMediaArt and lives her passion for 3D graphics and visual effects. After years as a VFX artist in the English games industry, she now works remotely for a Viennese games studio.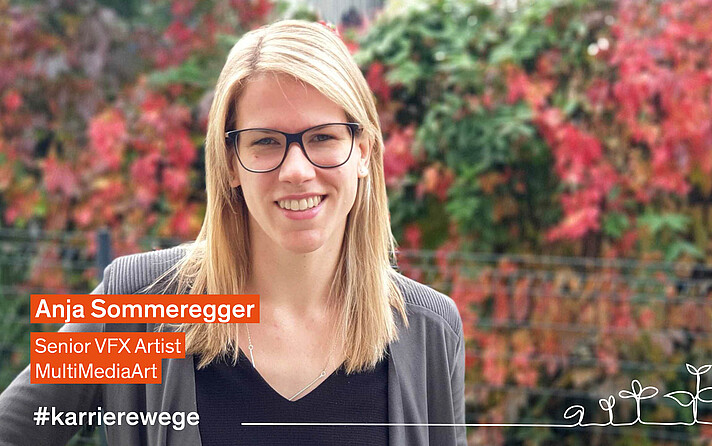 Anja Sommeregger was fascinated by computer design at an early age, when she was still at grammar school. "I developed my first digital artwork on the computer for my Matura with a focus on computer science," says the 32-year-old.
After that, it was clear to her that she should continue in this way:
"I looked at a few art universities, but then decided on the MultiMediaArt programme at FH Salzburg, because the clear process of an FH degree programme particularly appealed to me."
In her bachelor's degree, Sommeregger specialised in computer animation. One highlight was winning the prestigious ADC (Art Directors Club) Young Talent Award with the 3D short film "Blood, Sweat & Gingerbread", in which she worked as a 3D artist.
During the subsequent MultiMediaArt Master's programme, Sommeregger became increasingly interested in games and visual effects (VFX). "VFX artists work everywhere where impressive graphic effects can be seen. This can be in a boss fight, for example, where movement combinations are graphically pimped, or when it comes to depicting explosions, fire, liquids or weather phenomena." Her final project - the jump 'n' run game "Balloon Quest" - won the prize for the best newcomer game at the German Developer Award 2013.
With the award in his luggage, it was quite easy to get a job after graduation. Sommeregger was offered a job at the Frankfurt game developer Deck 13 Interactive developing the role-playing game "Lords of the Fallen". Together with her then boyfriend and now husband (whom she met at the FH Salzburg during the production of Ballon Quest), she went to the northwest of England to a small community south of Manchester after completing the project. At the game studio TT Games, which specialises in LEGO computer games, she worked her way up in the following years from VFX artist to manager with a team of 6 employees.
"Working at TT Games was a great experience. At that time, the team consisted of about 250 employees, many of them from countries like Italy, Portugal or Poland - a colourful, international community in which we quickly made friends and where real friendships developed". However, Sommeregger and her husband did not want to stay in England longer or even forever. "We missed our families too much for that, and the weather left a lot to be desired."
The birth of her daughter then tipped the scales to return to Austria. "We really wanted to go back to Salzburg. I was lucky enough to find a job as a senior VFX artist at the game studio Purple Lamp in Vienna, which I can also do from Salzburg." Sommeregger is currently working on a computer game with cult character SpongeBob as the main character.
Her tip for future students:
Find something you really enjoy and then put a lot of time into it to become really good at it. If you are passionate about something, it will be noticed by others and open up a lot of career opportunities for you."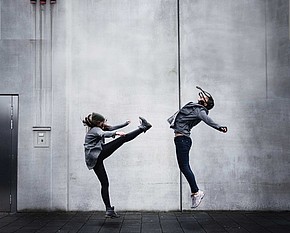 MultiMediaArt (Bachelor)
Duration: 3 years (6 semesters)
Degree: Bachelor of Arts in Arts and Design (BA)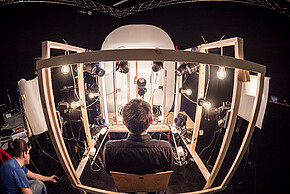 MultiMediaArt (Master)
Duration: 2 years (4 semesters)
Degree: Master of Arts in Arts and Design (MA)