At the end of June, Dominik Engel was introduced as the new managing director of the FH Salzburg. With the start of the new academic year - on 1 September - he now takes office.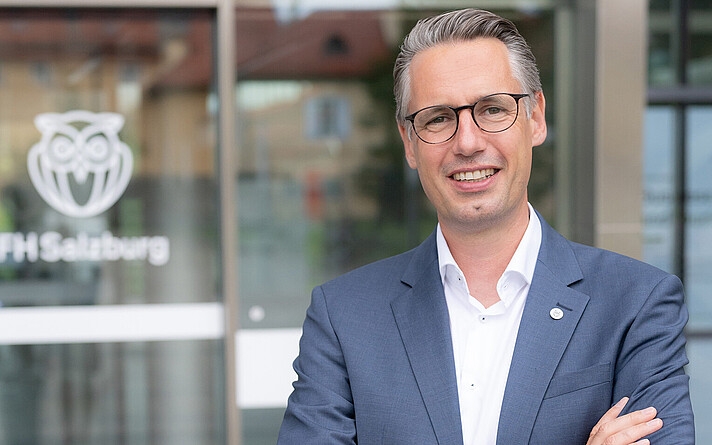 The head of the Centre for Secure Energy Informatics at the FH Salzburg emerged as the best candidate from a multi-stage, international process and was able to convince the committees with his concept for the future of the FH. The new managing director from the scientific area will have overall responsibility for the FH from the winter semester onwards. He will be supported by Doris Walter and Raimund Ribitsch, the previous managing directors who successfully built up the FH.
"My goals include even more internationalisation and interdisciplinarity and more social permeability in the degree programme," says the new managing director of the FH Salzburg.
Over the next five years, Dominik Engel wants to anchor the FH Salzburg even better in the international innovation and research community with an internationalisation strategy. In this way, the FH is to offer students better points of contact for internships or semesters abroad, but also become more interesting for international lecturers.
His credo of "courage to innovate" has already been largely met with the new division of teaching and research into forward-looking departments: Green Engineering & Circular Design, Information Technologies and Digitalisation, Creative Technologies, Business & Tourism, Health Sciences, Applied Social Sciences.
"These are precisely the central future fields in which the economy and society are developing. In the future, the FH Salzburg must be both a strong source of impulses and a trainer," Engel notes.
What is important to Dominik Engel is increased social permeability. Young people from non-academic households should also be able to study at the FH Salzburg.
Last but not least, Dominik Engel would like the FH Salzburg to sharpen its educational goals. The FHs have set out to offer specialised training at an academic level, but with a strong practical orientation. "That is the secret of success of the FH sector. That's what the students want and that's what Salzburg needs as a place to do business and work.