The Research Coordination Office acts as the linchpin for Salzburg University of Applied Sciences' varied research agendas and works closely with SUAS researchers, university services and university management, which it also reports to. The office provides general support on research funding, research documentation and research communication.
Research funding – from initial idea to final project
The office offers support when initiating, acquiring and conducting applied R&D projects by providing information about current funding programmes and individual advice and support on the administrative aspects of funding applications and research reporting.
Research documentation – recording our research achievements
The Research Coordination Office is responsible for documenting and reporting Salzburg University of Applied Sciences' research achievements and some aspects of R&D project controlling.
Research communication – "Just imagine: research is happening and nobody knows about it"
Communication, whether internal or external, is extremely important. The Research Coordination Office helps link up researchers working in different disciplines and research areas and helps them to take advantage of the university's synergies and in-house expertise.
Salzburg University of Applied Sciences is, however, also aware of its societal obligation to communicate its research findings "externally". The Research Coordination Office is therefore also responsible for different research communication agendas, such as the research website, the university's research report and organising events such as the Long Night of Research.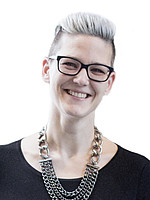 Mag. Dr.
Carmen Wageneder-Schmid