"Connected naturally"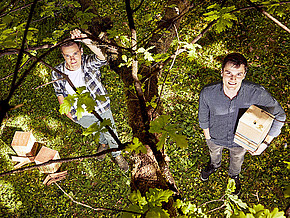 Mission: The death of a loved one is one of the most emotional moments in life. These people deserve a unique farewell with a personalised urn. Tree branches with a strong connection to the deceased (from a tree in their own garden, in the area they lived in, or from the tree of life) are used. On the one hand a piece of home can be given and on the other hand the tree with the cut off branch piece can serve as a memory. This principle can also be applied to pieces of furniture.
Team: Bernhard Lapusch, BSc; Production & Product Development | Florian Gschweidl, BSc; Sales & Marketing
Origin: Forest Products Technology & Management
More Informations: www.edelzweig.at
Contact: +43 650 57 032 57 | Mail: info@edelzweig.at​​​​​​​
We'd like to point out that after activation data may be sent to third parties. Further information can be found in our
privacy statement.