"Empowering Seamless Mobile Communication"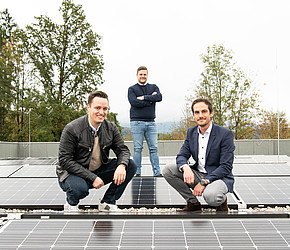 Mission: solbytech gmbh combines energy management issues with innovative IT solutions and is concerned with the unstable communication of mobile, decentralised power generation plants. solbytech is developing a system that uses various hardware and software features (solbyvise STC & solbyvise USV) to ensure functional stability and security of mobile communication for decentralised applications. The improved transmission quality and reduction of connection failures benefits the customer in providing seamless communication to the system and the reduction of service.
Team: Florian Dodegge, Projectmanagement | Gerald Eder, Sales & Energy Management | Manuel Dorfer, Product Developement & Finance
Origin: Information Technology & Systems Management, Smart Buildings in Smart Cities
More Informations: www.solby.tech
Contact: +43 660 5584003 | info@solby.tech.com | Instagram: @solbytech | Facebook: @solbytech
We'd like to point out that after activation data may be sent to third parties. Further information can be found in our
privacy statement.