"Securing Digital Documents"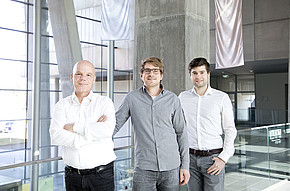 Mission: sproof revolutionises digital signatures and develoes decentralised technologies for the secure management of digital documents and data. The process of collecting handwritten signatures for documents can be time consuming, frustrating and it's very insecure and not forgery-proof. sproof offers an easy solution for collecting signatures for documents and is easily integrated into existing processes and applications.
sproof GmbH currently offers two different products for creating digital signatures.
sproof registry creates a revolutionary and new kind of digital signature that allows you to issue your documents digitally and secure. Furthermore, verification is easy, completely decentralized and does not require your interaction.
sproof sign is an online signature collection service that is easy to use and makes the collection of signatures fast and easy. sproof sign is GDPR and eIDAS compliant and integrates into existing workflows seamlessly.
Team: Clemens Brunner, CEO | Erich Hopoldseder, CFO | Fabian Knirsch, CTO
Origin: Information Technology & Systems Management, Center for Secure Energy Informatics
More Informations: www.sproof.io
Contact: +43 664 52 66 038 | office@sproof.io
We'd like to point out that after activation data may be sent to third parties. Further information can be found in our
privacy statement.