"Simplifying your ketogenic diet"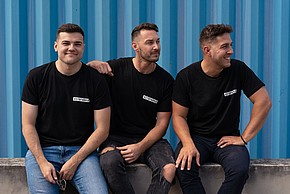 Mission: Ketofabrik sets the goal to simplify the ketogenic diet with delicious convenience food solutions. Ketofabrik is going to begin with "Keto on the go", the delicious chocolate bar. Whether you're a Keto veteran or a newbie, the way to your succesful ketogenic diet is paved. The trend around the ketogenic nutrition in the United States is spreading to Europe. However, the supply in the current European region has not grown in line with the rapidly increasing demand. As a first mover Ketofabrik is conquering the young European market by offering food and beverage products developed for the keto target group.
Team: Ing. Dusan Milekic, CEO | Slobodan Stojanovic, CMO | Nicola Di Loreto, COO
Origin: SME Management & Entrepreneurship
More Informations: www.ketofabrik.com
Contact: dmilekic@ketofabrik.com | Tel: +43 660 65 00 444
We'd like to point out that after activation data may be sent to third parties. Further information can be found in our
privacy statement.