Whether it's smart homes, industry 4.0 or autonomous vehicles – many of today's most cutting-edge developments are based on interactions between humans and computers. In the international joint master programme "Human-Computer Interaction", you learn how to shape the way people interact with digital applications, products and services. Understand the relationship between people and interactive systems and become an expert in one of today's most dynamic and significant fields of innovation.
| | |
| --- | --- |
| Degree awarded: | Master of Science in Engineering (MSc) |
| Length of study: | 4 semesters (2 years) |
| Study mode: | full-time |
| Study places per year: | 30 |
| Location: | Salzburg University of Applied Sciences (Campus Urstein) and Paris Lodron University Salzburg (Center for HCI, Campus Science City Itzling) |
| Language: | English |
| Tuition: | tuition fee at least € 363,- per semester (up to double amount for NON-EU countries) + Euro 22.70 student union fee per semester |
| Prep. Course fee: | for preparation courses organized by University of Salzburg at least € 50,- per course |
Download Brochure
Why study Human-Computer Interaction at Salzburg University of Applied Sciences?
The joint master programme of Salzburg University of Applied Sciences and Paris Lodron University of Salzburg combines key competencies from computer science, design and psychology. Drawing from several areas of knowledge, the degree programme revolves around the research, design and development of interactive systems and innovative forms of interaction.
The programme is aimed at international graduates from fields such as human-computer interaction, design, media or communication studies and addresses the following topics:
HCI theory
methodology and prototyping
human factors & user experience engineering
interaction design & digital innovation
contextual interfaces
HCI innovations & future technologies
What you should know about the HCI master programme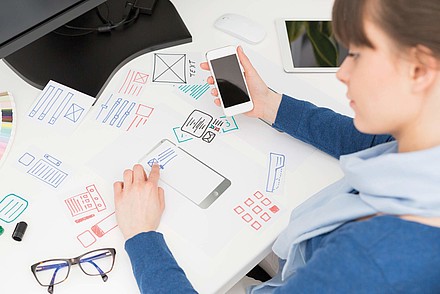 Modules and elective courses
The curriculum is focused on providing students with the theoretical knowledge and hands-on experience to become competent designers and design-minded engineers. In addition to the fundamentals of HCI theory and methodology, courses deal with topics such as usability and experience engineering methods.
What's more, students have the option of specialising in the research and development of interactive settings, ambient assisted living, public spaces, smart mobility or virtual and augmented reality.
During the course of your studies, you will undertake one research and one industry project under the supervision of academic staff members.
Elective courses: Designed as a joint master programme, "Human-Computer Interaction" provides you with the opportunity to choose elective courses from two universities with a total sum of 12 ECTS.
Relevant lectures offered at Salzburg University of Applied Sciences and Paris Lodron University of Salzburg include the following:
Salzburg University of Applied Sciences:
Game Design
Recommender Systems
Mixed Reality Technologies
Digital Ideation
Data Analysis
Information Visualisation
Predictive Analytics
Realtime Visualisation
Interaction Design
Paris Lodron University of Salzburg:
Data Science and Big Data
Geoinformatics
Cognitive Psychology
Work experience and studying abroad
To fuse your theoretical knowledge with hands-on work experience, the master programme offers the possibility of doing an optional internship in industry.
If you are interested in studying abroad, you can do so in the fourth semester when working on your master thesis. Salzburg University of Applied Sciences offers a wide range of international partner universities and is continuously expanding its partner network in the field of Human-Computer Interaction.
Career prospects
Students of this master programme benefit from excellent employment prospects and a vast range of career paths. Whether it's in product development, the creative industries or in education – our graduates are highly sought after both in academia and industry.
Sounds interesting? Keep in mind that this highly specialised master programme is limited to 30 study places per year and apply for your spot online now!