Nobody wakes up excited to stroke a pane of glass. Emotion is physical, and it is interaction with the full range of human senses that defines the feeling and emotion of a product or service. In the course "Interaction Approaches & Technologies" in the second semester of the Human-Computer Interaction programme students learn to design interactions that emotionally engages users. The course is held by the interaction technologist and design engineer George Cave.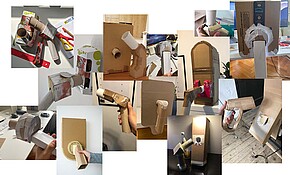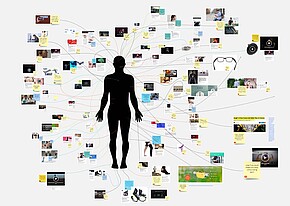 Imagine standing at a petrol station and plug the nozzle into your car. The smell of gasoline. The vibration of the cable. The audible hum of the machine behind you. All of this familiar sensory feedback comes for free, thanks to the natural physics of that wet, heavy liquid flowing through the pipe.
Charging an electric vehicle affords no such natural feedback. It's a designers job to invent this feedback from scratch. Which metaphor can be used to explain how that energy enters your car? What does electricity smell like? What sort of personality does it have?
These are the kinds of questions students ask themselves when they begin to redesign familiar concepts such as toilet flushes, LED bike navigation or even simple buttons.
Designing hardware interactions
A key foundation of the course is to prototype everything. To truly understand their own ideas, students must experience them for real. Students join with only a rudimentary background in Arduino, and their electronics and software skills are developed in tandem with their design thinking.
The basic interaction toolkit has six parts: switches, haptics, gesture, light, sound, and motion. Students explore each topic through a mix of group research, case studies, design challenges, Arduino prototyping and practical experiments.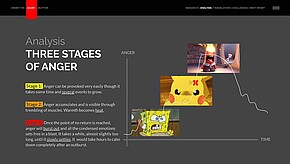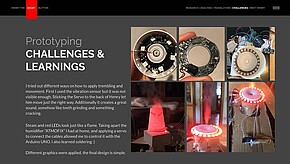 Emotional buttons
Towards the end of the course, students were challenged to embody what they've learned into an emotional button. From a starting point like anger or patience, they build references from films, memes and cartoons to extract the core of an emotion and recreate it as an interactive experience. Projects were often assembled with whatever's to hand: shoeboxes, old soap dishes, a mouse trap or dismantled dehumidifier.
The creative variety is a joy to see. The fearful button hides in the dark, recoiling from an advancing kitchen knife. The sassy button waves away the advancing finger. The jealous button grows increasingly irritable when its neighbour is pressed.
We'd like to point out that after activation data may be sent to third parties. Further information can be found in our
privacy statement.