Graduates of our Bachelor's degree in Biomedical Sciences are very lucky in that they have very good career opportunities and often have a fixed job offer before completing their studies, making our Biomedical sciences course a particularly promising step on your career ladder.
Job prospects and careers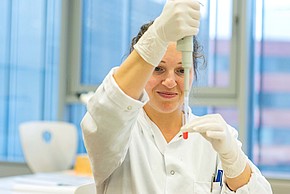 Biomedical analysts mainly work in the field of public health, particularly human medicine. They analyse patient samples in medical laboratories within various fields of research. The results of these analyses are important for health-promoting prevention and diagnostics of and therapy for illnesses.

The occupational areas include:
Hospitals
Sanatoriums
Outpatient clinics
Private laboratories
Veterinary laboratories
University hospitals and institutes
Institutes with an orientation towards natural sciences
Convalescent homes and treatment centres
Rehabilitation centres
Public health departments
MSF (Doctors without borders)
IT companies manufacturing software and hardware used in laboratories