Welcome to the overview of internships and English-taught courses offered by the Radiation Technology Degree Programme for incoming exchange students.
For further information on internships, academic issues, courses and course selection, please, contact the international coordinator of the Radiation Technology Programme, Florian Szigeti, MSc. (florian.szigeti@fh-salzburg.ac.at).
We offer internships to our Erasmus partners in cooperation with the SALK University Hospital Salzburg, in the fields of:
radiological diagnostics (computed radiography, CT, MRI)
nuclear medicine
radiation therapy
For administrative issues, please, contact the Incoming Students Coordinator at International Office.
Please note: The courses are held in German only, except the following.
English taught course in spring semester (6th semester):
Course title: Medical English for radiologic technologists
Course code: RATB6MERIL
ECTS-Credits: 2,5
Course contents: Lecture and discussion of English language scientific publications and other professionally relevant texts. A special significance is given to texts the students are using for their bachelor theses. Based on a university-eligibility-level selected grammar points are reviewed and explained more in-depth. Construction and expansion of general and occupational-specific vocabulary; work on verbal language competency (expression, pronunciation) as a prerequisite for working with non-german-speaking patients.
Superior module: Social Interaction and Reflection on Professional Performance
Module description: The graduates perceive patient care and support as part of their future occupational task and understand the significance of their job-related actions with regard to comprehensive patient care. Based on their knowledge of indications and contraindications they are able to understand the radio-technological relevance of the prescribed examination or treatment, and can, when necessary, consult with the responsible doctor regarding missing medically relevant information. They are able to inform patients about their upcoming treatments and examinations and answer any questions the patient might have. For this purpose, it is required to communicate complex technical matters in patient-friendly language. They know the responsibilities of other health professions and are able to work together in a multi-professional team. The students recognize patients' needs and can adjust their operational methods, and the operational procedures of the department to accommodate them as much as possible. They have dispelled some of their timidity about speaking to patients in difficult situations, and are prepared to seek out contact with such patients. They are able to provide patients with additional information regarding further services in medical, psychological and psychosocial areas. They recognize their own psychological stress, and are able to articulate it and accept help when needed. They have developed an awareness of ethical dilemmas in health care professions.
Besides the degree-specific course, the university offers the following courses: German for beginners (4 ECTS), Intercultural communication (4 ECTS) and Understanding Austrian society (4 ECTS). By taking part in the "tandem learning project", you can gain another 2 ECTS.
Find more information here: Courses offered by the International Office.
International Departmental Coordinator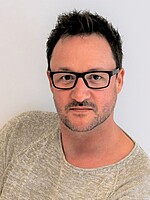 International Academic Advisor
Department Health Sciences