Our sports department offers students a diverse programme of courses and training every semester.
FH Salzburg Sports Programme
As students of Salzburg University of Applied Sciences, you can use the facilities of the University and Sport Centre in Rif.
Alternately, you can simply explore nature outside your front door. The options are unlimited. Whether skiing, ski touring or snowboarding in winter, or beach volleyball, swimming, sailing and climbing in summer: Salzburg's mountains and lakes are available in closest proximity.
Sports Department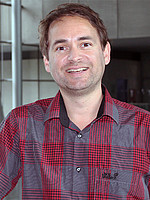 Mag.
Florian Furtner
Assistant, Quality Management