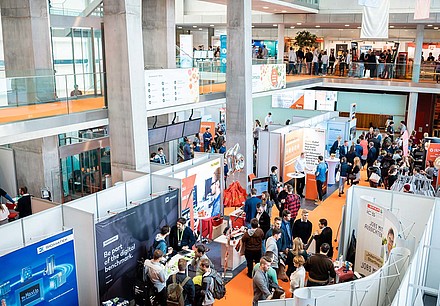 The Contacta career fair is the perfect opportunity for companies to present themselves as an attractive employer to students of the FH Salzburg. At Contacta, students can get to know companies from various sectors and look for internships, trainee programmes and job offers after graduation.
Contacta 2021
Contacta 2021 online
More than 45 companies will be present at Contacta 2021. On a specially developed fair portal, students have the opportunity to contact companies directly via text or video chat.
A visit to Contacta is definitely worthwhile. The new three-day fair format (24/25/26 November) makes flexible participation possible. The main day of the fair is 25.11.2021 with live chats and company presentations. All those who have little or no time on 25.11. can arrange fixed appointments with the company of their choice directly on the fair platform on the three days of the fair.
Students from ALL Salzburg universities are very welcome! Login to the fair platform and appointment booking possible from mid-November: https://contacta.fh-salzburg.ac.at

Exhibitors:
ATOMIC Austria GmbH, Berchtesgadener Land Wirtschaftsservice Gmbh, Binderholz GmbH, Biogena GmbH & Co KG, blumatix, BWT Holding, conova communications GmbH, COPA-DATA. dm drogerie markt GmbH, elements, eurofunk KAPPACHER, EY Österreich (Ernst & Young), FH Salzburg, has.to.be gmbh, Hervis, HOFER KG, ITSP Services GmbH, IVM Technical Consultants, Kapsch BusinessCom AG, KPMG Austria GmbH, KTM AG, Liebherr-Werk Bischofshofen Gmbh/Liebherr Österreich Vertriebs- und Service GmbH, Microtec GmbH, NativeWaves, Objectbay Software GmbH, Palfinger, pixelart GmbH, Porsche Holding, Raiffeisenverband Salzburg eGen, Ramsauer & Stürmer Software OG, Regnauer Fertigbau GmbH & Co. KG, Salzburg AG, Salzburger Landeskliniken (SALK), SES European Shopping Centers, SIGMATEK GmbH & Co KG, Skidata, SPAR Österreichische Warenhandels AG, SPAR ICS, Startup Salzburg / FHStartup Center, Stieglbrauerei zu Salzburg GmbH, Tecan Austria GmbH, TechDivision, Vivid Planet Software GmbH, W&H Dentalwerk Bürmoos, Qualcomm, Wüstenrot Gruppe, zobl.bauer. Pinzgau