Globalisation, extremism, new forms of communication – our society is constantly changing, and this inevitably brings new challenges. It is important to react to these challenges with flexibility as well as creativity with solution-oriented approaches. Become a specialist and executive in the social sector with our Master's degree in Social Innovation and actively shape the social future!
Study mode:
part-time
Degree awarded:
Master of Arts in Social Sciences (MA)
Length of study:
4 semesters (120 ECTS)
Study places per year:
25
Location:
Urstein Campus
Language of instruction:
German
Lesson times:
two evenings per week (Tuesday and Wednesday from 17.00 to 20.15)
and weekend blocks from Friday noon and Saturday all day
Tuition:
Euro 363,- per semester + Euro 22.70 student union fee per semester
Download Brochure (German)
Why study Social Innovation at Salzburg University of Applied Sciences?
Our Master's degree in Social Innovation enables you to deepen your knowledge and really specialise in the field of social work. Socio-political, social, and demographic changes are increasingly creating new areas of tension, specially nowadays.
Studying at Salzburg University of Applied Sciences gives you comprehensive skills for innovative planning and responsible management within the social sector. Learn to develop professional strategies for societal change processes based on critical analysis and reflection, such as the following:
Ageing societies – new forms of health promotion
Increasing globalisation – migration movements, growing societal diversity
Social inequality – empowering disadvantaged groups, ensuring social stability
Important aspects of our Master's degree in Social Innovation
Study content and focus areas
Our Master's degree in Social Innovation is based on four macro modules, in which qualification is based on the following:
Social change and ethics
Science of social innovation
Areas of action (social innovation)
(Innovation) action and methods
Furthermore, the curriculum of our Master's programme is divided into seven knowledge lines:
Social innovation in theory, practice, and ethics
Scientific work
Law
New public health and generations
Globalisation, migration and diversity
Social inequality and empowerment
Methods of innovation and organisational development
Practical relevance and semester abroad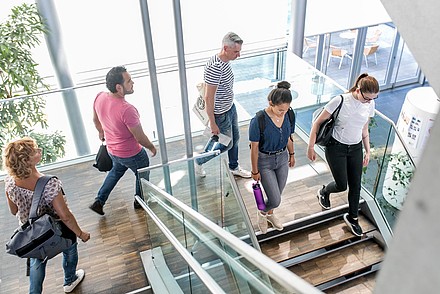 Through its part-time set-up, our Master's degree in Social Innovation offers the perfect opportunity to combine theory and professional experience during your degree.
Good to know: Due to the scope of the teaching content and the time required, we recommend working a maximum of 30 hours a week on top of your studies.
In addition to professional work, our Social Innovation degree also has a highly practical aspect thanks to practice-oriented projects and your scientific Master's thesis.
Studying abroad: Specially when it comes to social work, dealing with other cultures is an important aspect. Take the opportunity to do a semester abroad during your third or fourth semester to work on your intercultural skills!
Job prospects and careers
As specialists in the social field, graduates of our Master's degree course are in great demand. You could work in social services, social or health planning, public authorities, or in child and youth welfare – your acquired knowledge enables you to develop innovative solutions in a number of various areas.
Further specialisation: Our Master's degree in Social Innovation forms an excellent basis for further academic education, for example, for a doctorate.