Actively shaping the future: our Bachelor's course in Smart Building gives you the opportunity to develop buildings that have a positive impact on our quality of life. During your studies, you will learn to view buildings holistically, and create modern habitats that use energy and resources efficiency. With our "Smart Building" programme, you become part of a new generation of planners and constructors who can change our living environment for the future.
| | |
| --- | --- |
| Degree awarded: | Bachelor of Science in Engineering (BSc) |
| Duration: | 6 semesters / 180 ECTS |
| Study places per year: | 35 |
| Location: | Kuchl Campus |
| Language of instruction: | German |
| Tuition: | Tuition fee Euro 363,- per semester + Euro 22.70 student union fee per semester |
Download Brochure (German)
Why study Green Building at the University of Applied Sciences Salzburg?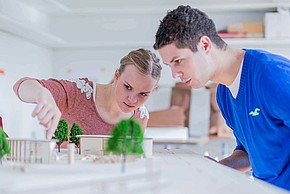 Our Bachelor's degree in Green Building combines the basic principles of construction and engineering with the innovative approach of energy-efficient building technology. The focus is on sustainable construction, holistic perspectives, and efficient use of energy and costs.
During your studies, you will learn how to design buildings of the future that can be used as work and living spaces. Theoretical and practical knowledge in constructive construction, building technology, and in the field of energy and information technology will help you achieve this. This course will train you to focus on people and the environment. In addition, you will learn how to deal with natural resources responsibly without losing sight of economic aspects.
Among others, the following aspects form part of our Bachelor's degree in Green Building:
Sustainable architecture
Engineering and natural sciences
Construction and building technology
Energy and information technology
Social-communicative and economic aspects
Where theory meets practice – through the part time structure of this course, you can practice what you learn in your everyday work.
Did you know? Our "Smart Building" degree programme was awarded the National Award for Teaching!
Important points about our Bachelor's degree in Smart Building
Study content and focus areas
During the first part of your studies, you will gain a broad knowledge in all relevant fields. Fundamentals of natural sciences and engineering are just as central to construction as are building technology, design, and the construction industry. This methodological expertise is complemented by aspects such as architectural quality and user comfort.
In the last part of your course, you will deepen your knowledge in one of two main areas:
Smart building systems –
building management, building automation systems, and control technology
Smart building constructions –
building construction, developing detailed solutions, integrating smart building components
Smart skills – as part of our Bachelor's degree programme, you have the opportunity to gain additional skills:
Certified energy consultant
Certified European passive house designer/consultant
Qualification as an external energy auditor
DGI/ÖGNI, LEE, BREEAM certifications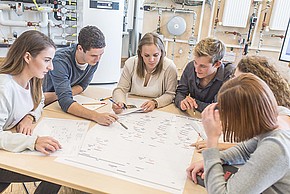 Internship and semester abroad
Due to the part-time structure of this course, a great deal of emphasis is given to practical training. In addition, during the course of your studies, a great deal of attention is paid to compulsory professional internships. In total, you will complete 450 internship hours during your Bachelor's degree programme.
Good to know – if you are already pursuing a work-related activity in addition to your studies, these hours can be credited.
Smart building around the world – do you want to further specialise while studying abroad? From your third semester, you have the chance to spend a semester abroad at one of our numerous partner universities.