The Marshall Plan Scholarship supports the academic exchange between Austria and the U.S. and offers scholarships of € 4.000 to up to € 10.000 to Austrian and American students for a research stay of at least three months.
The scholarship has a focus on universities of applied sciences and technical universities ("Fachhochschulen und Technische Universitäten") and a precondition for the application is a research done in relation to technical sciences as well as an exceptional student performance.
Application
Please note: the research period must be at least 3 months to max. 12 months.
The application process takes place in consultation with the international departmental coordinator of the respective Degree Programme.
Application deadline:
1st Call: September 5th to October 31st 2022 - earliest start January 30st, 2023
2nd Call: March 1st to April 28, 2023 - earliest start August 1st, 2023

Important documents & links*
Für weitere Fragen wenden Sie sich gerne an das International Office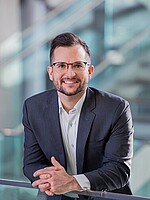 Assistant
International Office