The latest technology and workflows have opened up boundless creative possibilities for a new generation of 3D artists working in computer animation. Through a generalist approach to procedural workflows and tools, such as Side Effects Houdini and the latest version of Unreal Engine, this programme allows you to study bleeding edge methods in 3D content creation with a focus on the current and future needs of the creative industries. Graduates specialising in computer animation have a wide variety of career possibilities open to them within the gaming, VFX and film industries.
The specialisation in computer animation aims to combine artistic and technical skills and gives you the opportunity to use the latest technology to optimise your creative expression. This aim is founded on the belief that interactive formats and platforms, as well as the use of interactive authoring tools such as Unreal Engine, will play a defining role in the future of digital content creation for VFX and film.
By offering an overview of current and future workflows, this specialisation makes it possible for students to learn about and experience the whole range of production opportunities. The programme also provides students with all the content and practical skills required by a next-gen 3D artist, including how to work with virtual studios for in-camera VFX, how to create assets and digital twins with photogrammetry, interaction design in VR and mixed reality as well as motion and facial capture for digital character creation.
Students from the MultiMediaArt programme specialising in computer animation, film, communication design, audio or management work together on collaborative projects alongside students from our MultiMediaTechnology partner programme who are studying web or game engineering.
Resources available to students include film stages, DOLBY Atmos sound studios, VR gear, a render farm, motion capturing, ARRI Alexa/Amira cameras and dedicated rooms for collaborative work.
Students will produce sophisticated final projects such as animated films, VFX projects, installations, VR apps and games. You can take a look at examples here: MultiMediaArt-Portfolio.
State of the art industry workflows and knowledge is transferred to student projects and classrooms by lecturers from the industry.
Students have gone on to launch successful careers with companies including Rockstar, Disney, Framestore, Double Negative, ILM and Ubisoft.
These include, the ADC awards, the animago AWARD, the Cannes Lions festival, ACG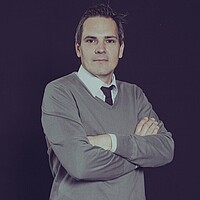 Josef Schinwald
.
The creative industries are undergoing constant change. Demand for detail, complexity and visual quality has led to changes in tools and methods. It is important that these are included as core components in future-oriented training programmes for 3D content creators. Alongside this, there has been an increased emphasis on technical skills that build upon artistic quality. These skills are key to professional success and open doors to international career opportunities.
State-of-the-art interactive platforms and applications are now available for content creators to use and proficiency in procedural methods has become an essential requirement for future 3D artists. The specialisation in computer animation is staying up to date with these developments. This is why Unreal Engine and Houdini have been incorporated as key course elements and are supported by additional classes in photogrammetry, motion and performance capturing and virtual production, to ensure that students are capable of mastering any complex challenges that may arise within the CG content industry.
Courses
Side Effects Houdini is a key player in the gaming and VFX industries. With over 20 years' experience in procedural workflows, it has become an industry standard for highend content creation. Whether working in VFX, procedural environments or complex simulation, Houdini artists are considered the CG magicians amongst 3D artists. The Procedural Environments course will provide students with the skills necessary to turn even the most demanding visions of directors, game designers and creative leads into digital reality.
With its fifth and latest version of Unreal Engine, Epic Games has expanded its impact well beyond the realm of gaming. It has now become a major content creation tool for automotive, film and television, architecture and simulation and has even transformed the basic workflows of entire industries. Whilst Houdini might represent the brains behind this computer animation specialisation, Unreal is at the heart of the programme. The Interactive Environments course covers all aspects of interactive authoring and rendering using Unreal Engine and is the cornerstone of the master programme. All learnings provided by additional courses and project coaching sessions are combined into an Unreal Engine project that is based around the latest workflows enabled by the Epic ecosystem.
An exciting collection of additional skills relating to procedural and interactive environments has emerged within the Epic ecosystem environment. Virtual production, photogrammetry, digital humans in the form of Metahumans, Reality Capture, Quixel Megascans and motion and performance capture represent standard industry workflows which allow for advanced and efficient production. Advanced CG Production provides an opportunity for students to put these methods into practice by using them themselves and implementing them on set and on location. Hands on and often away from keyboard!
In such a rapidly developing industry, it is impossible to predict every new trend. New technology enables new workflows. New topics generate new content-related challenges. Emerging CG Topics is a response to this rapid change and is a course in which representatives from the industry are invited to host guest workshops to share new insights with students. Previous lecturers have included Simon Holmedal from the british elite CG studio Panoply and David Kennedy, Game Director at UBISOFT.
We'd like to point out that after activation data may be sent to third parties. Further information can be found in our
privacy statement.
We'd like to point out that after activation data may be sent to third parties. Further information can be found in our
privacy statement.
We'd like to point out that after activation data may be sent to third parties. Further information can be found in our
privacy statement.