Our health care system is becoming increasingly more complex – and therefore, so are the challenges associated with it. Learn how to professionally work in this challenging environment with patients who have different physical and mental conditions. In our Bachelor of Science in Nursing, you gain the necessary technical and social competence to enrich the health sector as a nursing expert.
Study:
Full-time
Degree:
Bachelor of Science in Health Studies (BSc)
Duration:
6 semesters
Study places per year:
100 at Salzburg Campus - start winter semester
40 at Schwarzach Campus - start winter semester
60 at Urstein Campus - start summer semester
Location:
Salzburg Campus (Uniklinikum LKH), Schwarzach Campus, Urstein Campus
Language of instruction:
German
Internship:
approx. 2.300 hours alongside studies
Tuition:
Tuition fee € 363,- per semester + Euro 22.70 student union fee per semester
Download brochure (in german)
Why study a Bachelor of Science in Nursing at Salzburg University of Applied Sciences?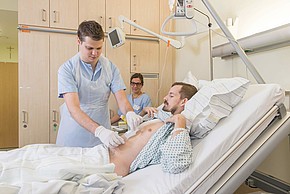 Health care and nursing mean more than just care. Increasing challenges and complex care situations today demand a balanced combination of scientific know-how and practical experience.
As part of your nursing training at Salzburg University of Applied Sciences, you will not only gain the highest professional skills, but also acquire equally important social skills. This makes you a professional intermediary between patient and doctors. This will allow you to not only respond to your patients in the best possible way, but also exchange ideas on an equal footing with interdisciplinary teams.
Our Bachelor of Science in Nursing covers the following topics:
Independent diagnosis of care problems
Identifying resources and implementing defined measures
Use of research findings in nursing decisions
Reflection on existing nursing practices
Development and evaluation of new possibilities for action
Case management, community care, quality management
Development of new fields of activity such as counselling, and health promotion and prevention
Important aspects of our Bachelor of Science in Nursing
Study content and focus areas
Our Nursing degree involves innovative learning methods such as e-learning and scientific research, as well as casework, literature studies, and practical exercises. They help you to implement your own research and practical projects competently, and to reflect professionally on your access to the care sector.
In addition to a basic knowledge of research methodology and social competences, you have the opportunity to set individual priorities during your studies. You can choose them during the course of your studies.
Among others, you can find opportunities for specialisation through the following options:
Deciding on a special compulsory elective subject in the sixth semester
The acquisition of additional competencies through free subjects
An internship in a specific area such as research, health policy or publishing
European learning exchange programmes or internships abroad
Participation in congresses and interdisciplinary events
Exchanges with international students
Choice of topics for your Bachelor's thesis and seminar papers
Internship and semester abroad
Job prospects and careers