Our Nursing degree offers you excellent career opportunities in all areas of health care. Due to the increasing complexity of the health care system, nursing is constantly changing and making graduates more and more valuable in new areas of work. Whether you work in a hospital, rehabilitation centre, or nursing home – your training at Salzburg University of Applied Sciences enables you to work in a wide range of nursing institutions.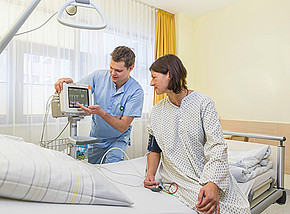 The comprehensive focus of your studies opens up many other career paths for you. Care management, health care, case management, care or disease management: graduates make important contributions in all of these areas. The doors to teaching and research are also open after completing a Bachelor's degree at Salzburg University of Applied Sciences.
Good to know: In addition to your Nursing degree, you will also receive a diploma in Health Care and Nursing.
Your career opportunities as a nurse
Graduates of the Nursing degree programme
pursue nursing as an independent profession, where they diagnose nursing problems and determine the measures that need to be taken independently
are directly involved in bedside care for patients
select research results as the basis for nursing-related decisions
analyse the current nursing practice critically
develop and evaluate new action possibilities
try out established roles and model new roles in the field of nursing, e.g. bedside nursing, case management, community care or quality management
open up new fields of activity such as client counselling, health promotion, prevention in nursing
follow a career path where one can pursue a doctoral programme after a bachelor programme
After successful completion of the studies, graduates are qualified to pursue a higher service career in nursing. The bachelor degree provides a strong foundation for further studies and practice in special fields such as counselling, research, management and apprenticeship.