The International Office, as the central hub for cooperation and international exchange, collaborates with the Rectorate and the Degree Programmes on the conception and implementation of the Internationalisation Strategy. The International Office acts as an information hub in the field of internationalisation and bundles and coordinates the international activities of the FH Salzburg.
The FH Salzburg is well connected regionally, nationally and internationally. In the form of mobility agreements in teaching, the FH Salzburg maintains contacts with more than 150 renowned partner universities in over 45 countries worldwide.
The team of the International Office advises students that are planning a study or internship stay abroad (outgoing).
The International Office also supports international students coming to the FH Salzburg within the scope of an exchange semester/year (incoming).
Furthermore, the International Office coordinates the mobility of lecturers and non-scientific/general staff of the FH Salzburg who are travelling within the framework of the European educational programme Erasmus+.
The International Office coordinates the application for International Credit Mobility (KA 107) projects and currently the FH Salzburg is also participating very successfully in this programme scheme.
Within the framework of the Internationalisation@Home, which is part of the Internationalisation Strategy of the FH Salzburg, the International Office offers international exchange students support with their integration as well as advice on entry and residence.
In addition, the International Office promotes language skills in all degree programmes and strengthens the inter-/transcultural and international competences of students, lecturers and general/non-scientific staff through a range of programmes and offers.
International Office
Fachhochschule Salzburg GmbH
Campus Urstein
Urstein Süd 1
A-5412 Puch/Salzburg, Austria
If you have any questions, please do not hesitate to contact the Team International Office!
Please drop documents in our post box in case the office is not occupied.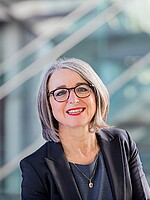 Mag.
Vice Rector, Rectorate
Senior Lecturer, Forest Products Technology & Timber Construction
International Academic Advisor, Smart Building
International Academic Advisor, Forest Products Technology & Timber Construction
International Academic Advisor, Design & Product Management