Ann-Katrin Freit, employee at the University of Applied Sciences Darmstadt, spent a Staff Mobility at the FH Salzburg in July 2019.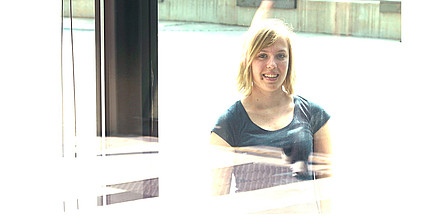 I was allowed to do my first job shadowing in July 2019 at the FH Salzburg. The organisation was handled by the International Office (IO) of the FH Salzburg and the International Office of my university. My request was immediately warmly received and the communication with the IO was an open, smooth and friendly coordination, regarding my planned stay. My first impression when I arrived in front of the entrance of the FH Salzburg was modern, familiar and nature-oriented. I was greeted in a friendly manner by my contact person in the IO and was first given a personal introductory talk.
The reception by the head of the department of University Communication & Marketing (HKM) was very warm and I felt directly welcomed in the department, also by the team. As if I had always been part of the FH Salzburg. I will never forget the experience of experiencing my "own" department at another university of applied sciences and in another country so quickly. I have taken many impressions and process ideas with me to Germany and to my home university (Darmstadt University of Applied Sciences). It was great to be able to exchange ideas with colleagues on specialist topics and to get to know a slightly different corporate culture. It was also somewhat relieving to see that other corporate communication departments have to deal with the same "issues", which gave me a lot of courage to find solutions to the problems together. Because making and maintaining contacts is one of the things that job shadowing does.
The Erasmus Staff+ Mobility process is clear and understandable. The application documents and the payment of costs run smoothly. Erasmus+ provides a clear schedule. Through the Mobility Agreement, the objectives of the exchange are individually agreed and recorded, as well as the own expected results and effects that the exchange is expected to bring about. Arrival and departure one day earlier and/or later than the planned stay are included in the accommodation costs. Both travel expenses and subsistence costs will be reimbursed. At the beginning you will receive pre-financing, so that you do not have to pay (the full) amount in advance. This saves the personal travel expenses after the trip. Assistance from Erasmus+ is fast and precise. Your own wishes can be taken into account and in the best case be fulfilled.
I have firmly resolved that this was not my last job shadowing. I would like to expand my experience and contacts through other universities and countries.