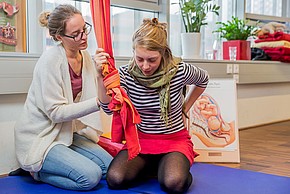 Our midwifery degree places a strong emphasis on practical experience. From the outset, you will complete in-service internships in various areas of obstetrics, totalling 1850 hours (74 ECTS-credits). Whether it be in the delivery suite, on the labour ward, or the maternity clinic, the internship opportunities available are varied and exciting. Even outside classical hospital work, practical experience can be gained in birth clinics, midwife practices, or breastfeeding groups.
Among other places, vocational training takes place in Salzburg University Hospital (SALK) as well as in hospitals in Braunau, Hallein, Schwarzach, Wels, and Bad Reichenhall.
Good to know: In the third semester you can do an internship abroad.